The Piarist Zeal of Sainthood
BRIEF HISTORY

The Piarist Fathers, Escolapios from the Province of Vasconia arrived to Japan on October 3, 1950. The first Piarists who arrived in Japan were Fr. Feliciano Perez and Fr. Jose Luis Perea. Later, there were about twenty (20) Piarist Religious from the Spanish Province of Vasconia followed them later.
In the year 1995, the first Piarists' House in the Philippines was opened. Once again, the Piarist Fathers is been able to carry out its mission in the Education of Children and Youth in Piety and Learning through the blissful presence of the young people in this land.
With the Communities and works, first existed in Japan and recently in the Philippines,
The Japan-Philippines General Delegation
was formally established in 1996.
Early in the year 2004, the General Delegation was elevated to the status as an Independent Vice-Province of Japan and the Philippines.
In Japan, there are (4) Community Houses, (2) Parishes, and (2) schools. The Parishes are the
St. Francis Xavier Parish
in Tobe-Diocese of Yokohama; and the
Stella Maris Parish
in Yokkaichi City, Mie Prefecture-Diocese of Kyoto. The Schools are the
Escolapios Kaisei High School
and the
Escolapios Umi No Hoshi Catholic Kindergarteen
.
On the other hand, in the Philippines the Community Houses are in Cebu City, Manila and Bicol.
In Cebu, we have (2) centers of Apostolates, they are the
Calasanz Cultural Center
and the Corrado Cultural Center. Another Community House for the Lay Fraternity is also located in Cebu.
Recently, the
San Vicente Parish
, Diocese of Daet in Bicol Region is our First Parish in the Philippine church with a Parochial High School School which is called the San Vicente High School.
"If Children from their earliest years are instructed deligently in Piety and Learning, it must undoubtedly be expected that their whole life be a happy one" >>>
More
"We, the Members of the
Calasanzian Family
follow Christ and express our mission by working for the children and youth in formal and non-formal education setting in the same spirit of our Holy Founder, St. Joseph Calasanz all over the world." >>>
More
THE VICE-PROVINCE OF JAPAN-PHILIPPINES IS HAPPY TO ANNOUCE THE PERPETUAL PROFESSION OF OUR BROTHERS REXBERT GARCES AND EDMUND VERGARA.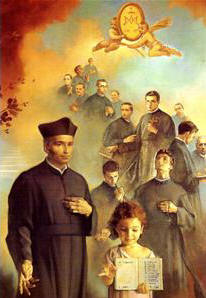 The 11 priests and 2 brothers, members of Clerks Regular of the Pious Schools (Piarist Fathers, Escolapios), martyred during Civil War in 1936. They were proclaimed Venerable on 15 December, 1994 and were beatified in Rome on 1 October, 1995 by his holiness Pope John Paul II.
St. Joseph Calasanz spent his last days in San Pantaleo house. He died on August 25, 1648 at the age of 91. He was deaclared a Saint in 1767. His feast in on the 25th of August.